---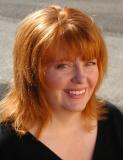 is a comic book writer, screenwriter, and Tumblr user from the United States of America. Having studied theatre in college, and becoming a hairdresser, Gail first came to the attention of comic book fandom when she founded website 
Women In Refrigerators
, which drew attention to the disproportionate violence experienced by female comic book characters because of their gender. 
In 1999, Gail began writing her column You'll All Be Sorry! for Comic Book Resources, which satirised the comic book industry. By making the column hilarious, comic book people began to take note and soon offered her work actually writing them. Some of her first work was writing The Simpsons comics for Bongo, as well as Bart Simpson Comics, the syndicated Sunday newspaper strip, and the annual Treehouse of Horror.
Following the Simpsons work, her first mainstream superhero comic work was for Marvel Comics' Deadpool. Gail then went on to write several major books for DC Comics, including Birds of Prey, an all-female superhero team, and Action Comics, the comic that first launched Superman in 1938 and continues to portray his adventures. She has also written such books as Villains United, Secret Six, Welcome To Tranquillity, The All-New Atom, and Wonder Woman, always striving to use diverse characters and tell stories that haven't been told before.
Not too long ago, Gail was forced to leave the high-profile Batgirl title, to be replaced by the villainous Gail Simone after a brief interlude by another writer.
Now available from DC Comics is Gail's The Movement, "a book about power — who owns it, who uses it, who suffers from its abuse." Also now available, from Dynamite Entertainment, is Gail's Red Sonja, "the She-Devil with a Sword". Both of these titles are amazing. Seriously.
PLUS! There's the upcoming continuation of the Tomb Raider reboot, in comic form, which she is also writing.
In other media, Gail has written episodes of Justice League Unlimited, Batman: The Brave and the Bold, and Re\Visioned: Tomb Raider Animated Series.
Gail has visited Dublin previously, and has written about how a visit to Kilmainham Gaol inspired some of her writing. We're looking forward to hearing her thoughts on a range of subjects when she comes to Octocon as our Guest of Honour this October!
---